We Are Learning
now, more than ever, that to be human means to long for in-person connection. Our last season began with Doggie Hamlet at the Salt Lake County Equestrian Park and ended (awfully unexpectedly) at a reading of Mary Dickson's play EXPOSED in the Viridian Center. In between, 23,942 audience members enjoyed our truncated season of 14 shows across a range of mediums. We renamed our community engagement work REACHUP and as you will see, despite the COVID-19 disruption, we were still able to offer 38 events for more than 14,000 Utahns. We're proud of all that we did together this year.
Thank you. Thank you for donating to UtahPresents, sponsoring a show, a series, or the entire season. Thank you for buying tickets and going on a journey with us.
I'm proud to share about the work that you generously supported last season. In that telling, I want to focus not just on what we did together but also what we learned. Please enjoy this deep dive behind the scenes on a few projects.
Brooke Horejsi,
Executive Director UtahPresents
Connecting
14,643
Individuals
Through
39
Community Organizations
"BE VERY SPECIFIC," SAID MARC BREW. AXIS DANCE COMPANY'S DIRECTOR. BREW WAS TEACHING AN INTEGRATED TECHNIQUE CLASS TO U DANCERS. AFTER MEMORIZING A DETAILED ARM SEQUENCE, THE DANCE MAJORS TRANSFORMED IT INTO A SOLO AND CREATED GROUP CONSTELLATIONS. THIS WAS A NEW TYPE OF TRANSLATION FOR THE STUDENTS, AS MARC IS IN A WHEELCHAIR.
AXIS Dance Company is the foremost physically integrated dance company in the US. AXIS was our first foray into presenting artists with disabilities. Partners helped design ten events with the company including an integrated dance technique class, panel discussion with medical students, teacher workshop with Tanner Dance's Dance for Disabilities, and a student matinee performance.
Presenting AXIS showed us how intentional we need to be about increasing access. We arranged transportation and housing to include multiple accessible vans and rooms, removed pit seating to accommodate every patron in a wheelchair, and audited our website for accessibility.
Going forward, Art Access, a local organization dedicated to building an inclusive and diverse arts community, is helping our staff develop an accessibility plan to make Kingsbury Hall and UtahPresents a better partner for members of the disability community. Our work to increase access at UtahPresents continues.
WE ARE TOO OFTEN CONNECTED ACROSS THE GLOBE BY DIRE NEWS AND STEREOTYPES. ART BRINGS A DIFFERENT PERSPECTIVE, TELLING MULTIPLE STORIES ABOUT A CULTURE FROM WITHIN, RATHER THAN ONE SINGLE STORY FROM THE OUTSIDE.
This season, Indian Ink Theatre Company and Guangdong Modern Dance Company brought tales of nostalgia, place, and memory. Indian Ink blends western mask and physical theatre work with eastern flavors and quirky New Zealand humor. At Mrs. Krishnan's Party, Mrs. K longs to return to the India she left many years ago. Under a garden of hanging lights, she learns to find a home away from home with her nephew Jimmy and an audience of relative strangers.
Guangdong Modern Dance Company, the first modern dance company in mainland China, mixed the opulent lines of the old (calligraphy) with the sharp aesthetic of the new (modern dance) to create Beyond Calligraphy. In Ink Wash Landscape, bodies in exquisite slow motion float against a changing backdrop of landscape, another blending of the old (nature) with the new (technology) to create a home away from home.
The meticulous lighting and set designs for both shows brought out our best. Through these shows, we learned to dialogue across cultural contexts to make the work shine, finding our shared humanity in the beauty of our individual stories.
AUDITED FINANCIAL STATEMENTS FOR THE YEAR ENDING JUNE 30, 2019
100% of your donation goes directly
towards UtahPresents Programs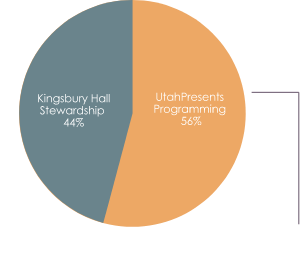 UTAHPRESENTS PROGRAMMING DETAIL
Programming: Artist fee, housing, transportation, and REACHUP program
Compensation and benefits
Outside consultants, repairs & maintenance, parking services, audit, ticket consultant
Fees: ticket software and banking
Professional development & travel
Administrative
Development & fundraising
YOU MADE A DIFFERENCE. THANK YOU.
25,000+
Nancy Peery Marriott Foundation
Salt Lake County Cultural Facilities Support Program
Salt Lake County Zoo, Arts & Parks
Utah Division of Arts & Museums
10,000-24,999
Peter Ashdown
The Bar Method
George S. and Dolores Dore Eccles Foundation
Chet and Carrie Goodwin
Gordon and Connie Hanks
Hampton Inn & Suites Salt Lake City – University/Foothill
National Endowment for the Arts
John and Marcia Price Family Foundation
Salt Lake City Arts Council
Alice and Kevin Steiner
The Sam and Diane Stewart Family Foundation
University of Utah Guest House & Conference Center
UtahPresents Advisory Board
XMission
5000-9999
Arts Midwest
Kathryn Atwood and Jacques D'Astous
Mary L. Daines
Kathie and Chuck Horman
Lone Rock Clothing/Design Ink
Robert and Mikelle Mansfield
Mitchell Barlow & Mansfield
Shaun and Wendy McCardell
Dinesh and Kalpana Patel
Western States Arts Federation
2500-4999
Marney and Peter Billings
The B.W. Bastian Foundation
Sandi Behnken
Every Blooming Thing
R. Harold Burton Foundation
Ferro Investments, LLC
Mike Ferro
Robert and Mary Gilchrist
The Richard K. and Shirley S. Hemingway Foundation
Lee and Audrey Hollaar
Keller Investment Properties
Kenworth Sales Company
LIFEWTR
Steiner Foundation
Kyle Treadway and Greg Pedroza
Vita Bone
Zions Bank
1000-2499
Ari Diamonds
Bombay House
Patricia Callahan
Goldman Sachs
John and Ilauna Gurr
Joshua and Masha Herzbrun
David and Renae Kirby
Carolyn and Peter Kowalchik
Lori McDonald
New England Foundation for the Arts
Natu Patel
Sanjay Patel
Tushar Patel
Semnani Family Foundation
Umbrella Theater Company
United Way of Salt Lake
John and Martha Veranth
500-999
John Bergerson and Shawn Kielty
THE BLOCKS
Darryl and Ann Butt
Dhiraj Chand
Muljibhai and Sharda Chaudhari
Community Foundation of Utah
Annie and Jahn Davis
Eric and Shellie Eide
EKA Solutions, Inc.
Fatpipe, Inc.
Guru Hargobindji Hospitality Inc.
Greg Hatch and Terry Kogan
Laurie Hofmann and David Classen
Marian Ingham
Cosette Joesten
David and Lisa Kieda
Laxmi Hospitality LLC
Peter and Michelle Morgan
Donald and Clara Murphy
Bankim Patel
Prakash Patel
Sally Shatz
Srilatha and Anurag Singh
Krista and Jim Sorenson
Utah Humanities
Yuvi Petroleum LLC
Jody and Wai-Ming Wong
250-499
Scott and Kathie Amann
Havilah Clarke
Tiana Hood and Steven Morales
Brooke and Michael Horejsi
Karineh Hovsepian and Russell Kelly
Thelma Iker
Michael Lobb
All gifts made between January 1 and December 31, 2019