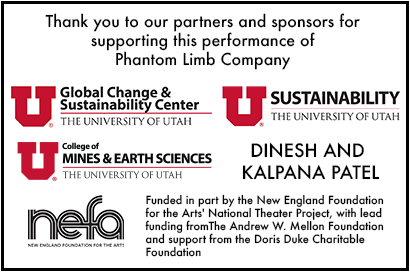 This is a virtual performance. You do not need a physical ticket. You will receive an automatic confirmation email immediately following your purchase, and then you will receive an email 24-48 hours prior to the show time with a link to join the performance.
Tickets will be available for sale through Apr 29, and the performance archive will be available to view "on demand" through Apr 30. A link to the livestream of Falling Out will be sent to all ticket buyers 24 hours prior to the livestream on Apr 22 at 7PM MT. Falling Out will then be added to the performance archive, with the 3 previous events, and will be available to view through Apr 30. If you purchase a ticket after Apr 22, the link to the performance archive will be emailed to you within 24 hours of purchase.
All times listed are Mountain Time Zone
January 21, 7:00PM MT – Series Sampler with preview clips from all three performances from the trilogy and live conversation with Phantom Limb Company members
February 18, 7:00PM MT – 69°S
69°S. is a series of dynamic tableaux vivants inspired by Sir Ernest Shackleton's 1914 Trans-Antarctic Expedition. Co-conceived by The Phantom Limb Company and The Kronos Quartet, this painterly narrative installation-in-motion melds theatrical performance, puppetry, photography, dance and film with original contemporary music and an unconventional acoustic palette to create a stunning — and unprecedented — artistic and emotional journey. Read more about this performance.
March 18, 7:00PM MT – Memory Rings
Memory Rings is told through a series of overlapping scenarios that come together to confront us with one profound choice. The epic tale of Gilgamesh, woodland creatures as storytellers, fairy tales full of enchanted forests, and a new fable – the disintegration of four people in an identity crisis – all overlap. Dance, puppetry, mask, installation, music, projections, costume, and the occasional bit of Nietzsche are all judiciously used to tell our otherwise wordless story. Read more about this performance.
April 22, 7:00PM MT – Falling Out
A highly anticipated and deeply researched production, Falling Out examines the earthquake, tsunami and subsequent nuclear meltdown that ravaged the region of Fukushima, Japan in 2011, marking the most fatal natural disaster in history. Blending puppetry with the distinct Japanese art of Butoh, Phantom Limb Company collaborates with Dai Matsuoka of Sankai Juku to investigate the shared language of Butoh and puppetry to express loss and life afterwards. Read more about this performance.