THANK YOU
It is with immense gratitude for your impactful support that we share UtahPresents' Annual Report and the remarkable journey we've had over the past fiscal year.
Thanks in part to your generosity, UtahPresents was able to return to a full season of in-person productions for the first time since our 2018-19 season. We reached over 35,600 audience members through 71 public performances and events.
It has been a joy to lead UtahPresents as the new Executive Director this past year. We are excited about the future and with your continued support, we look forward to embracing new opportunities and accomplishing even greater feats.
Thank you for being a cornerstone of UtahPresents. Your belief in our mission keeps us moving forward, and we are profoundly grateful.
Yours,
Chloe Jones
Executive Director, UtahPresents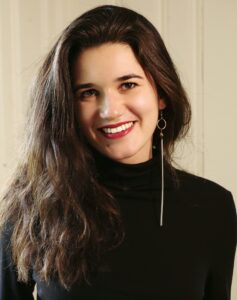 FROM THE BOARD CHAIR
UtahPresents is passionate about introducing diverse performance art to Salt Lake City with a special focus on community outreach. It is critical to our mission to provide meaningful arts opportunities to children, university students, and community members of all backgrounds.
As a board member for six years, I've witnessed firsthand UtahPresents' dedication to these community initiatives, which reflect the opportunities that enriched my own childhood with the arts. I want others to have these same inspiring experiences, and that is why I support UtahPresents.
Thank you for championing creativity, diversity, and the power of the arts, supporting our mission to make cultural experiences accessible to all.
Sincerely,
Tiana Hood
Chair, UtahPresents Advisory Board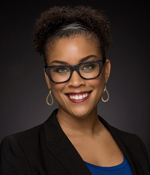 Season Accomplishments
Diverse Programming: We were pleased to return to a full season of UtahPresents performances for the first time since the 2018-2019 season. We continued our tradition of presenting a diverse array of artists and art forms, enriching the cultural tapestry of our community and inspiring curiosity and conversation.
Community Engagement: Proudly, we engaged with more than 9,700 community members through outreach programs, artist workshops, educational partnerships, and free community events, strengthening our ties to the people of Utah.
Stewardship of Kingsbury Hall: Our iconic building continued to be a vital community and university resource. Our versatile space provided a platform for events, performances, and gatherings, fostering vibrant cultural exchange within our community and academic circles.
Financial Turnaround: Despite projecting a deficit during the pandemic, your support and our sound financial management turned the tide. UtahPresents finished the 2022-2023 season with a surplus, ensuring our continued operations and the delivery of high-quality performances to the community.
Photo: Singer/songwriter Kalani Pe'a performs at Mana Academy.
REACHUP Highlights
REACHUP community engagement programming takes artists off the stage and directly into K-12 schools throughout the community, within departments on the U campus, and across the state.
We take pride in bringing world-class performers out of the theater and into schools, community centers, and other public spaces to meet the community where they live, work, and learn. We do this by partnering with non-profit and grassroots organizations to find audiences that share the interests or backgrounds of our performers. 
A core component of the ReachUP program is student matinees, bringing over 8,000 school-aged students to Kingsbury Hall each year to experience live performance, providing opportunities for students to see their own cultures represented on stage and building empathy in those seeing different cultures.
Post-matinee teacher comments include: "My students were able to see themselves on stage and connect with their own culture or with a different culture." and "Three of my students were thrilled that the performance represented their culture. They talked about it for several days afterwards."
In addition to matinees, in 2022-23 we partnered with dance faculty at the Bryant campus of Salt Lake Center for Science Education to offer a hip-hop dance class for junior-high students taught by dancers with Versa-Style, an LA-based ensemble featuring mostly dancers of color. We partnered with Promise South Salt Lake, a free program providing out-of-school programming for youth, to bring artists from Chicago's Manual Cinema to Lincoln Elementary for a class on storytelling and creativity, using puppets and storyboarding techniques. Our partnership with U of U Equity Diversity and Inclusion brought Resistance Revival Chorus to campus for the Martin Luther King, Jr., week of activities. The choir participated in the annual march and rally, performing several numbers for participants, as well as hosting a discussion on music and activism, prior to their public performance.
These and many other events throughout the season were made possible because of your support of UtahPresents.
Connecting
9,791
Individuals
Through
30
Community Organizations
YOU MADE A DIFFERENCE. THANK YOU.
Adam Aarif
Carolyn Abravanel
Alison Adams-Perlac
Jestene Ahn
Elizabeth Aleman
Elizabeth Allen
Kathleen and R. Scott Amann
Derek Anderson
Jeffrey Andreasen
Association of Performing Arts Professionals
Nathan Auck
Emily Auman
Jonni Badger
Catherine Bakk
Jayne Barnett
The B.W. Bastian Foundation
Emily Bastian
Jennifer Baumgartner
Roger Beal
John Bench
Kathryn Berger
Annika Bickford
Marney and Peter Billings
Michael Billings
Gregg Bissict
Ronald Black
Andrew Blackburn
Kathleen Boben
Kate Boyden
Cheryl Brady
Donna Branson
De Ann Brown
David Brugger
Emmalee Burdo
Jessica Burgett
Megan Burick
Catherine Burnett
R. Harold Burton Foundation
Dennis Busch
Steven Butler
Darryl Butt
Toni Byrd
Patricia Callahan
Lauren Callejas
Jennifer L. Campagna
Kristine Campbell
Angie Campbell
Heidi Cannella
Dhiraj Chand
Clint Checketts
Richard Cherian
Roxanne Christensen
Sandra Chrust
Matthew Clark
Havilah Clarke
Patricia and John Clay
Community Foundation of Utah
Sherie Coons
David Copeland
Rainey Cornaby
Kristin Cowan
Sarah Cremer
Lana Crichton
Michael Crittenden
Matt Cutini
Robyn Dalzen
Michael Dame
Lisa Dang
Annie and Jahn Davis
Adrian Dayton
Patrick de Freitas
Tami Derezotes
Anna Dillingham
Kirsten Dorius
Andrew Douglas
Benjamin Draleau
Metta Nelson Driscoll
Braden Dunbar
Walter Duncan
Cherish Dunshee
Carley Eastman
Eric and Shellie Eide
Susan Eisenman
Elizabeth Elliott
Daniel Ence
Joan Erickson
Gregory Ferbrache
Brittanie Flint
Kevin Flynn
Clinton Ford
Krista Fuhriman
Cristine Fuller
Jessica Galloway
Julio Garreaud
Sheri Gibb
Robert and Mary Gilchrist
Brooke Glaittli
Michelle Godina
Yvonne Goins
Goldman Sachs
Kara DiOrio and David Goldsmith
Kasey Goldstein
Valerie Gonzales
Karen Goodrick
Robert Gordon
Chase Gosch
Shauna Graves-Robertson
Michael Green
Robert Greeneisen
John Greenlee
Mary Jane Gregoire
Suzy Griesel
John Griffiths
Diane Gunnell
John and Ilauna Gurr
Callie Hagerman
Karen Hale
Jarrod Hall
Shanna and Aaron Hall
Tiffany Hall
Hampton Inn & Suites
Riah Hansen
Catherine Harlin and Tika Beard
Janet and H. Ric Harnsberger
Margaret Harper
Kameron Harper
Eric Harris
Liam Harrison-Stewart
Liza Hart
Amy M. Hasenkamp
R. Daniel Hatch
Gregory Hatch and Terry Kogan
Amy Hawkins
Kimberly Hawvermale
Nicholas Heffler
Joanna Heiden
Richard K. and Shirley S. Hemingway Foundation
Christy Hepworth
Elizabeth Hercules
Matthew and Wendy Hobson-Rohrer
David Classen and Laurie Hofmann
Audrey and Lee Hollaar
Tiana Hood and Steven Morales
Thelma Iker
Caroline Inches
Sheri Jardine and Erica Casey
Adam Jensen
Jeff Jensen
Erik Christiansen and Christina Jepson
Cosette Joesten
John Johnson
Linda Johnson
Danielle Johnson
Kamisha Johnson-Davis
Chantell Johnston
Melanie Jones
Edgar Joyner
Sarah Judd
Michael Kaufman
Kenworth Sales Company
Susan Kershaw
John Kestle
David and Lisa Kieda
Karen Killinger
Bryson King
Jennifer and Alan Kinghorn
Sherrie Kinyon
David and Renae Kirby
Rimii Kishioka
Scott Kisling
Norma Klein
Victoria Klingonsmith
David Kluger
Carolyn and Pete Kowalchik
Robert Lainhart
Jonette Lance
Stewart Landau
Grace Larsen
Tresann Lasko
Lucki Latimer
Estelle Ledoux
Jasen Lee
Jean Leishman
Stacey Lemmons
Matthew and Jill Leonelli
Molly Lewis
Fabian Liesner
LIFEWTR
Jodi Macdonald
Mandy Madrid-Meyers
Nathala Maduenho
Dylan Maguire
Kristie Manwaring
Mitch Markey
Nancy Peery Marriott
Sandra Marsh
Lydia Martinez
Erin Massey
Marva Match
Karnee McCoy
Jade McCoy
Lori McDonald
Nancy McEntire
Markham McGowan and Bruna Brito
The Marjean McKenna Living Trust
Tiffany McKenzie
Patrick McLaughlin
Sarah Medlin
Matthew Medura
Sari Melnicoff
Teresa Mendiola
Jennifer Merkley
Scott Meyer
Donise Miller
Edith Mitko
Jeremy Moon
Heidi Moore
Adrianne Moore
William Morelli
Terry and Lisa Mott
Austin Mouw
Janet Muir
Lindsey Myers
Aditiyaa Nagarajan
Joseph Naguy
Jennifer Nakao
National Endowment for the Arts
Nicholas Nebesky
Antonia Nelson
Aaron Nelson
New England Foundation for the Arts, Inc
Duyen Nguyen
James Nichols
Timothy Norris
Andrew Odoardi
Melissa Olsen
Marie Otto
Nicole Packer
Holden Page-Solleveld
Andrew Palmer
Sami Palmer
Dinesh and Kalpana Patel Foundation
William Palomo
Frank and Joanna Pedroza
Kyle Treadway and Greg Pedroza
James Peters
Carolyn Plasson
Michael Pope
Kirk Powell
John and Marcia Price Family Foundation
Synnove Price-Huish
Sara Quintero
Marjorie Rasmussen
Kenya Rene
Robin Repta
Roslyn Reynolds
Christopher Rich
Shelby Rickart
Becky Roberts
Kelsey Roberts
Hal Robins
Mika Robinson
Yolimar Rodriguez
Charlene and Bob Roetzel
Christopher Rogers
Megan Roland
Jeffrey Rossi
Helena Safavi-Hemami
Helen Salas-McCarty
Salt Lake City Arts Council Foundation
Salt Lake County Zoo, Arts & Parks (ZAP)
Paul Schlachter
Shea Schott
Sallie Dean Shatz
Sydney Shaw
Cami Shipp
Srilatha and Anurag Singh
Emma Singleton
Jill Smith
Amanda Smith
Callie Snell
David Snyder
The Sorenson Legacy Foundation
Jean Soulier
Jesse Stanford
State of Utah
Alice and Kevin Steiner
Bob Steiner and Wendy Reed
Steiner Foundation, Inc.
Milly Stello
Nate Stringham
Ann Marie Sturm
Kelli Sullivan
Summit Sotheby's International Realty
Robert and Barbara Svee
Todd Swensen
Aaron Swenson and Nathan Schmitz
Valda Tarbet
Elizabeth Taylor
James Taylor
Samuel Thomas
Norman Thomas
Michelle and Sean Thompson
Ellen Tolstad and Roy Piskadlo
Jennifer Tran
Grace Tran
Katie Turner
Deborah Uman
United Way of Salt Lake
University Guest House
University of Utah Teaching Grant
Utah Division of Arts & Museum
Ellen Van Orman
Brenda Wadsworth
Sara Wallace
Amy Ward
Andrea Warner
Hannah Warr
Jeff and Stephanie Weber
Thomas Weed
Ariella Welsh
Tina West
Western States Arts Federation
Gretchen Wilcox
Cindy Williams
Andrea Williamson
Stephanie Willis
Bonnie Wolsey-Dickinson
Jody and Wai-Ming Wong
William Woolston
Manuelita Woulfe
XMission L.C.
Katie Yanguez
Robert Yerman
David Yost
Aileen Zebrowski
Emily Ziegler
All gifts made between January 1, 2022 and June 30, 2023