THANK YOU
The heart of UtahPresents is artists. This year, in the great shifting that was COVID-19, we settled on this simple idea: we pay artists. We pay artists even when live performance is impossible and all must adapt. We pay because creativity has value and everyone deserves to be paid for their labor
As you look through this report, you will see the vast impact your gift has made. We could not have made it through this year without your committed support. Thank you for joining us.
Brooke Horejsi,
Executive Director UtahPresents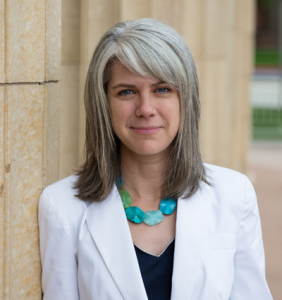 FROM THE ARTIST
When COVID hit, all our engagements for over a year were canceled. Except, we were blessed with this unique invitation from UtahPresents, with which we were able to take up the challenge to create an entirely new form of hybrid media performance. Company artists grieved friends and relatives who were lost during this time, others faced extreme health from fires, while others moved into essential work to get by. But we were able to return every week to being part of a creative vision: learning new media skills, connecting as artistic family, rejuvenating relations with longtime collaborators, contributing to an innovative process that is about using every resource to bring forth a storied theme of envisioning the future.
Rulan Tangen
Artistic Director, Dancing Earth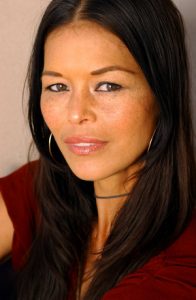 Cancelled almost all in-person performances, rentals, and workshops from March 2020 – July 2021
Staffing repercussions of furloughing all part time staff and 3 full time staff, reduced hours of 2 full time staff, and elimination of 1 full time position
Postponed 13 projects, canceled 1, and transitioned 7 to virtual delivery
Updated Kingsbury Hall with new equipment for filming and streaming
Ameliorated significant earned revenue loss with generous support from the Utah Legislature and other COVID-relief funding
PROJECT HIGHLIGHTS
This season UtahPresents did not leave artists in the lurch.  In person performances were postponed or evolved to virtual experiences, and payments went through when artists needed them the most. In addition, we commissioned new, virtual work from audience favorites Scott Silven and Taylor Mac. Check out these highlights from our season:

Artists Elevated
In a series of seven virtual panels, artists and curators from marginalized communities discussed obstacles to creativity in the Intermountain West. More here.

Black Benatar's Black Magic Cabaret
Artist Beatrice Thomas & Company built and launched their eclectic spectacle showcasing the talents of local performers telling their stories of being queer, black, or other, in the U.S.
right now. The College of Social Work partnered on an accompanying series of lectures and workshops with Bea. More here.
CAIRNS
Bringing together University of Utah scientists, student-activists, and artists, CAIRNS helps tackle sustainability issues from the ground up. Our first project explored the importance of Dark Skies in many cultures with the Global Change & Sustainability Center, Department of Theatre, and Dark Skies Studies minor. The project was guided by All My Relations Indigenous Artist Collective as they advance their new work GIZHIBAA GHIZIIG | Revolving Sky. More here.
Dancing Earth
Dancing Earth lept into cyberspace with BETWEEN UNDERGROUND AND SKYWORLD. Their vision of Indigenous superheroes and sustainable technologies went from live to five YouTube episodes through their residency with UtahPresents. Company artists also led workshops at the Urban Indian Center, Department of Ethnic Studies, and School of Dance. More here.
REACHUP Highlights
REACHUP community engagement programming takes artists off the stage and directly into K-12 schools throughout the community, within departments on the U campus, and across the state at an average of 80 workshops and events each year. These REACHUP events, created with, not for, the groups we serve, allow for in-depth interactions with artists, exploring important ideas through a creative lens.
One surprising benefit of the pandemic was that we all learned to use Zoom and other virtual modes of gathering, which allowed UtahPresents to extend the length of time that audiences could engage with artists. REACHUP programming happened in the months leading up to a show, rather than the days right before a live performance. This will be a great new model for us to experiment with in future season: 
Connecting
14,643
Individuals
Through
39
Community Organizations
University support - Detailed
Salary & benefit support
School of Music shared position reimbursement
Fine Arts Student Fee allotment
University of Utah event support
One-time University matching project grants
One-time University matching facility safety funding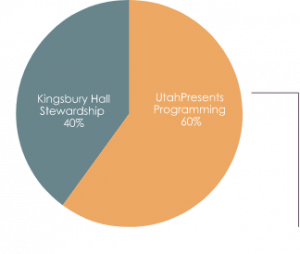 UTAHPRESENTS PROGRAMMING DETAIL
Programming: Artist fee, housing, transportation, and REACHUP program
Compensation and benefits
Outside consultants, repairs & maintenance, parking services, audit, ticket consultant
Fees: ticket software and banking
Professional development & travel
Administrative
Development & fundraising
100% of your donation goes directly
towards UtahPresents Programs
*AUDITED FINANCIAL STATEMENTS FOR THE YEAR ENDING JUNE 30, 2020
YOU MADE A DIFFERENCE. THANK YOU.
Brooke Adams and Tom Bogus
Scott and Kathleen Amann
J. Scott Anderson
Pete Ashdown
Anonymous
John Ballard and Karen Miller
Luna Banuri
The Bar Method
The B.W. Bastian Foundation
Sandi Behnken
John Bergerson and Shawn Kielty
Marney and Peter Billings
Daniel and Susanne Busse
Darryl and Ann Butt
Cactus & Tropicals
Chris Caiazza
Daniel Calderone
Patricia Callahan
The Castle Foundation
Dhiraj Chand
Chitrakaavya Dance
Havilah Clarke
Community Foundation of Utah
Rainey Cornaby
Mary Lynne Cortez
Brent and Tearsa Daines
Mary L. Daines
Jacques D'Astous and Kathryn Atwood
Jahn and Annie Davis
Douglas and Brooke Day
Design Ink
Tom and Laurie Eastwood
Eric and Shellie Eide
Sandra Ellsworth
Michael Ferro
Scott and Callene Flox
James and Barbara Gaddis
GAM Foundation Jazz SLC
The George S. and Dolores Doré Eccles Foundation
Chet and Carrie Goodwin
Ron Gibbons and Jennifer Mathis
Robert and Mary Gilchrist
Daniel Greenwood and Carol Salem
John and Ilauna Gurr
Ryan Hall and Melissa Hall
Hampton Inn & Suites Salt Lake City – University/Foothill
Gordon and Connie Hanks
Richard K. and Shirley S. Hemingway Foundation
Lori Hendrickx
Joshua and Masha Herzbrun
Daniel Hindert
Richard and Darlene Hirschi
Laurie Hofmann and David Classen
Lee and Audrey Hollaar
Tiana Hood and Steven Morales
Brooke and Michael Horejsi
Chuck and Kathie Horman
Karineh Hovsepian and Russell Kelly
Thelma Iker
Heidi & Scott Ingham
Heather Ingham
Laurel Ingham
Marian Ingham
Elizabeth Ivkovich and Calvin Smothers
Bobby and Nadine Jackson
Dan and Lorraine Jackson
Jathan Janove
Sheri Jardine and Erica Casey
Sterling Jardine
Cosette Joesten
JP Morgan Chase
Don and Page Juliano
Kenworth Sales Company
David and Lisa Kieda
David and Renae Kirby
Terry Kogan and Gregory Hatch
Peter and Carolyn Kowalchik
Larry and Jan Krystkowiak
John Lesnan and Trude Sedlar
LIFE WTR
Michael Lobb
James and Tory Magleby
Geoffrey and Jonette Mangum
Rob and Mikelle Mansfield
Nancy Peery Marriott Foundation
Chris and Amy Mautz
R. Tyler and Josel McCabe
Tom and Mary McCarthey
Lori McDonald
Michael Mertz and Christine Stoner-Mertz
Kurt and Christine Micek
Herbert I. & Elsa B. Michael Foundation
Mitchell, Barlow & Mansfield
Donald and Clara Murphy
National Endowment for the Arts
National Endowment for the Humanities
NetWize, Inc.
New England Foundation for the Arts
James Nish
Carol Osborn
Dinesh and Kalpana Patel
David and Sandi Pershing
Knute and Mazal Peterson
Dick and Beth Pratt
John and Marcia Price
John and Marcia Price Family Foundation
Virginia Pringle
Pierre-Richard Prosper and Laura Snow Prosper
Margaret Reiser
Christine Reyes
Ira Rubinfeld and Willamarie Huelskamp
Salt Lake County Zoo, Arts & Parks
Sallie Shatz
Jordan Smith and Jennie Nicholls-Smith
Daniel Sommers and Mary Jane Gregoire
SPEDCO
Bob Steiner and Wendy Reed
Kevin and Alice Steiner
Steiner Foundation, Inc.
Sam and Diane Stewart
Sam and Diane Stewart Family Foundation
Arthur Swindle
Stephen and Sondra Swindle
Lisa Szer
Valda Tarbet
Naoma Tate
Kathleen Townsley
Kyle Treadway and Greg Pedroza
Douglas and Nancy Tripp
Umbrella Theater Company
United Way of Salt Lake
University Guest House & Conference Center
Utah Division of Arts & Museums
Utah Humanities
John and Martha Veranth
Vita Bone
Frederick and Corrine Welt
Western States Arts Federation
Andrew and Amy Weyrich
David and Kelly Winslow
Thomas and Susan Winter
Judith Wolfe
Wai-Ming and Jody Wong
Todd and Heidi Woodbury
XMission
John Yoon and Katherine Kennedy
Zions Bank
All gifts made between January 1, 2020 and June 30, 2021