At UtahPresents, we like our art with a side of party. That's why this year we launched levelUP, a new membership program for subscribers. With levelUP you will enjoy a better experience at the theatre, opportunities to connect with artists, and fun parties with like-minded folks. levelUP starts at a $100 donation with your subscription.
The Benefits
---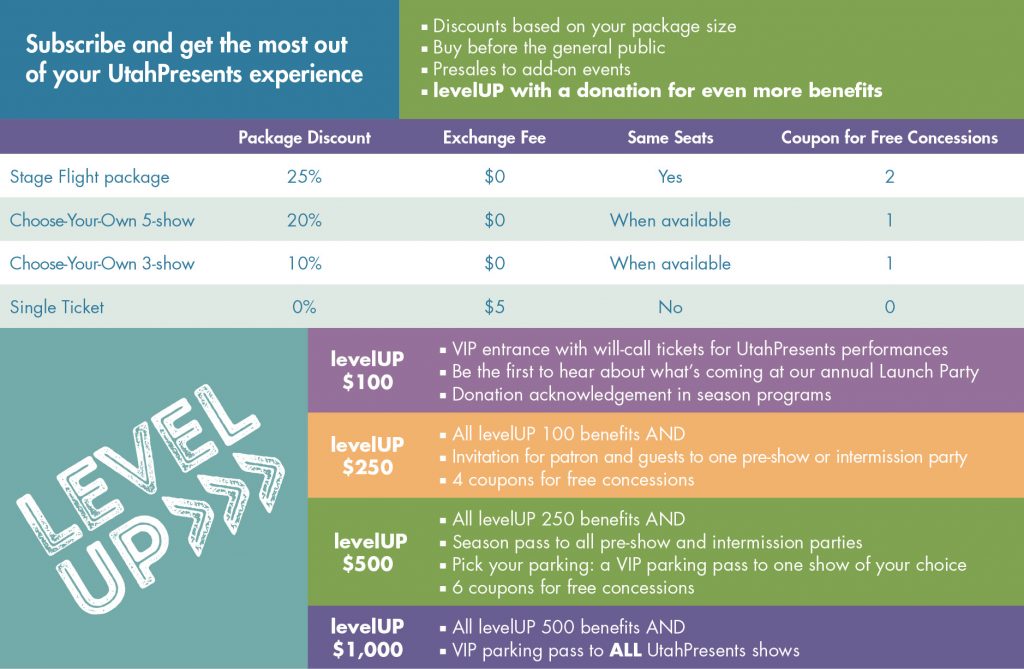 If you've already subscribed, join by donating at U Give and indicate in the "Special Instructions" box that this is a gift for levelUP.
If you have not yet subscribed, you may donate with your ticket purchase in the "Add Donation" box.
Or call Dennis Busch, 801-587-7844, to process your donation.
Eligibility:
You are eligible for levelUP membership if you are a current subscriber. This includes 3-pack, 5-pack, and Stage Flight subscriptions.
Pre-show, post-show, and intermission parties:
When it is allowed with our liquor license, we serve alcohol and non-alcoholic options. Your levelUP invitation to an event is extended to yourself and the members of your party.
Parking:
Reserved parking is extremely limited on Presidents Circle and costly for us to reserve. We will do our best to accommodate your preferences, and please note that we always have at least five ADA spots available and reserved for each performance.
Launch Party:
Save the Date for our Season Launch Party on May 2, 2020.
More Info:
For any questions about levelUP, please contact Liz Ivkovich, Development Director at liz.ivkovich(at)utah.edu or 801-585-0997.