A "BIG" opening for 2023-24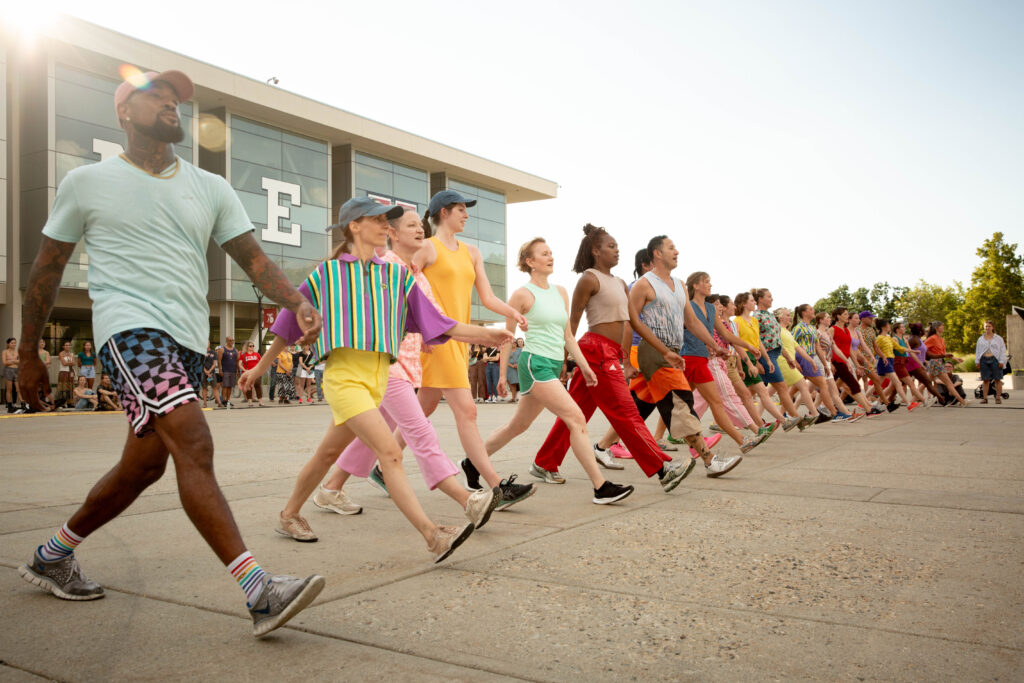 The 2023-24 season kicked off in a BIG way, with four performances of Joanna Kotze's BIG BEATS, a free outdoor performance on Aug 25 and 26 at the Salt Lake City Public Library and the U of U's Marriot Library.
The cast included professional dancers, as well as students and faculty from the U's School of Dance. Kotze was in Salt Lake City for two weeks leading up to the performances, working with dancers and UtahPresents and School of Dance staff to set the work and ensure a perfect execution of such a large event.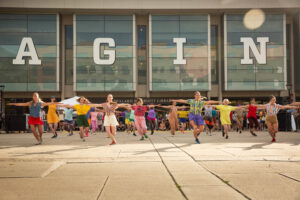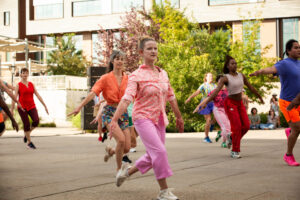 "This was quite an event to put together – 24 dancers, one live musician, outside, and free. There are so many variables," said Kotze. "The dancers worked very hard, taking on the rigorous, detailed movement with openness, concentration, and humor. They were an absolute pleasure to work with. They performed in the heat and sun, on concrete, twice each day, and they had positive energy the whole time."
As the name implies, the dancers perform to music driven by a very loud beat. Though it's often performed to recorded music, composer Ryan Seaton performed the music live for all four performances, adding a special component to the event. "The music is a huge part of the piece and musician/performer, Ryan Seaton was able to really showcase all the facets of the music," Kotze added. "It would not have been as successful without the production support given by UtahPresents, especially the incredible production team and sound set up they provided."
Though many people planned to attend, the nature of performance in a public place with loud music is intended to draw passersby, and many additional audience members were drawn in by the spectacle. One nearby resident heard the beat, came to see what was up, and then went home to grab his camera.
BIG BEATS, and next May's 'lectric Eye, Kotze's evening length work performed at Marriott Center for Dance, are part of a long-standing collaboration between UtahPresents and the School of Dance, working together to provide not only opportunities for local audiences to see new and cutting-edge contemporary dance, but also opportunities for students to learn from and perform alongside professional artists. "This would not have been possible without the collaboration between UtahPresents and the School of Dance – and namely Chloe Jones and Melonie Buchanan Murray," said Kotze. "It also would not have been possible without the administrative and rehearsal support given by assistant professor, Molly Heller, and graduate student, Roxanne Gray who took on much of the communication with the large cast as well as organizing the audition and rehearsal space."
Molly Heller, assistant professor in the U School of Dance and a longtime collaborator with Kotze, felt the impact on faculty and students performing together. "We don't really ever, except when we are teaching, have the opportunity to dance alongside one another in a decentralized power dynamic," Heller said in an interview with The Finer Points Blog. "No one is grading anyone. We are all in the same boat, swimming through complex material, figuring it out. For my colleagues and I to experience it together is bonding. I can feel the excitement in our faculty meetings to be sharing this, inviting everyone to come see what we are doing."
By all metrics, the event was a resounding success! "I can't say enough about this beautiful, talented, very generous community," Kotze added. "It's the first time I've set BIG BEATS on a combination of professional freelance dancers, University students, and University faculty. What an opportunity for students to dance WITH and learn WITH their teachers and professional dancers in their community. What an opportunity for the faculty to perform together and learn alongside their students. What an opportunity for me to witness these relationships grow and see the admiration everyone has for each other. I hope to share this with other communities in this way!"
Tickets for 'lectric Eye on May 9-11 are available now at https://www.utahpresents.org/events/lectriceye/
Learn about UtahPresents' Dance Package at UtahPresents.org/dance