Congratulations to Willy Palomo and his partner Anushka Sen on their move to Chicago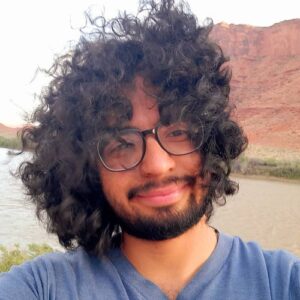 Congratulations to Willy Palomo and his partner, Anushka Sen, who has recently accepted a tenure track position at Loyola University in Chicago. They will be moving there this summer, and we wish them all the best!
Although Willy's time at UtahPresents was short, it was incredibly impactful. Continuing existing partnerships and developing new ones, Willy planned and executed 22 engagement events between January and May of 2023, impacting more than 5800 community members. These included student matinee performances of Youth Theatre at the U and Ukulele Orchestra of Great Britain, as well as a visit to Mana Academy with Hawaiian singer Kalani Pe'a, a puppet-making class with artists from Manual Cinema and Promise South Salt Lake's after school programs for elementary school students, and hosting the Utah State Poetry Slam Finals with guest poet Justice Ameer, just to name a few.
"I have immensely enjoyed my time at UtahPresents, connecting artists like Heidi Schreck and Manual Cinema to low-income schools and juvenile detention centers," Willy said. "I am grateful to our community partners like SLCC Dream Center and Burning Sissy Valley for co-building events with us to reach some of Utah's most marginalized communities. I am sad to be leaving so soon, but excited for the adventures and learning I'm sure to find in Chicago."
"It's been a tremendous gift to have Willy on the team at UtahPresents," said Chloe Jones, executive director of UtahPresents." He is simply brilliant at building community through the arts. In addition to all the programming he spearheaded this year, he was an invaluable collaborator to me in curating our 2023-2024 season."
Although we are extremely sad not to continue working with Willy, we are very happy for him and Anushka and their new adventures in Chicago!
Willy will continue to work full-time for UtahPresents through the end of June and part-time through September, allowing for a smooth transition. The search for a new Community Engagement Manager is now open at this link: https://employment.utah.edu/salt-lake-city-ut/community-engagement-manager/6B05BC843C3E417A8A71B6BF7E75487D/job/. Please help us spread the word!