Kalani Pe'a Brings Joyous Music to Salt Lake City
Music rang out in the cavernous room, filling the space with joyous sound. The students at Mana Academy in West Valley City were singing to welcome Hawaiian singer/songwriter Kalani Pe'a to their school. The power of their song, and the beauty of the harmonies, set the tone for what would be a meaningful time of discussion and music.
Kalani performed for the group of 7th – 12th grade students, and also spoke about his journey to becoming a multiple Grammy-winning singer, songwriter and performer, emphasizing the importance of the Hawaiian language on his music. He taught the students several traditional Hawaiian songs, and encouraged them to follow their dreams and work hard to achieve them.
Kalani's visit to Mana Academy was part of UtahPresents' REACHUP program, that creates opportunities for engagement and deeper interaction between artists and members of our community. While he was in Salt Lake for his February 3 live concert, Kalani visited Mana Academy, lectured in a Pacific Islands Studies class on the U campus, and participated in a dialogue with the Pacific Islander Student Association.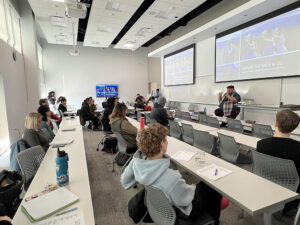 Throughout the day, Kalani shared the inspiration he takes from the beauty of the natural world, and specifically the beauty of the Hawaiian Islands. Building on traditional Hawaiian song structures, Kalani writes songs in both Hawaiian and English languages. He also incorporates traditional movement into his performances, dancing himself and also inviting local hula groups to join his live performances. For his concert at UtahPresents, dancers from local studios Kēhaulani Hula Studio and Hālau Kūpono hula, performed during several of Kalani's songs.
At Mana Academy, several native Hawaiian students presented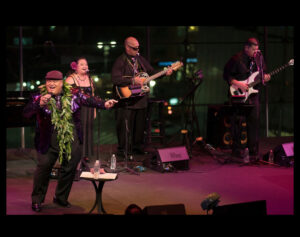 Kalani with a gift as the event drew to a close. The students expressed gratitude that Kalani spent time with them and visited their school. Providing opportunities for students to interact with and learn from artists, especially artists who come from similar backgrounds and experiences, is a driving force behind UtahPresents' mission. Many students and teachers who interacted with Kalani at the three REACHUP events attended the live public performance, finishing the week with joyous music and dance.