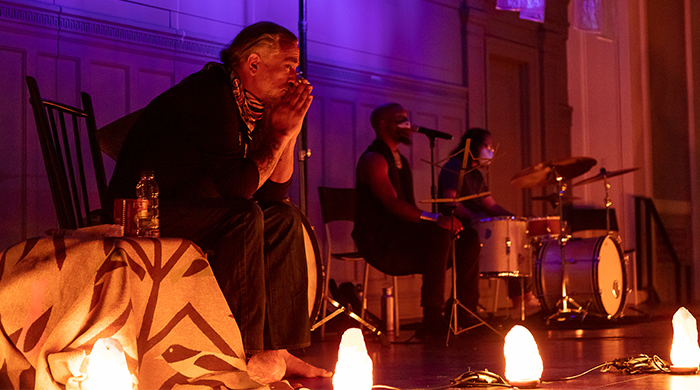 Timothy White Eagle-The Indigo Room
Kingsbury Hall | Nov 9 @ 7:30 pm
Nov 10 @ 7:30 pm
Nov 11 @ 7:30 pm

THE INDIGO ROOM is an immersive, ritualistic theater and installation work by Timothy White Eagle and The Violet Triangle. The artists explore the universal myth of a hero being swallowed alive and then returned, taking a collective journey through grief and connection toward new mythologies. Elemental and meditative, with a touch of divine magic, audiences are invited into new considerations and possibilities as we emerge from isolation. Space is very limited for this special performance experience.
Timothy White Eagle-The Indigo Room
Purchase in a 3-show package to save 15%, a Stage Flight to save 25%, or a Golden Ticket package to save up to 50%. Learn more
Buy Tickets
Buy Stage Flight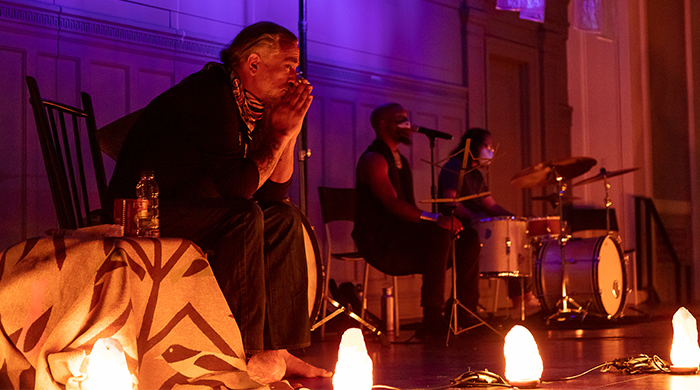 Ticket price:
General Admission $40
U of U students $5 (purchase at box office w/ U ID)
Non-U students $10 (purchase at box office w/ school ID)
ADA and ASL seating arrangements are available for purchase by calling our box office at 801-581-7100.
Ticket delivery options (select at check-out):
-Order online and print your tickets at home. It's easy, and you won't have to wait in line.
-Pick up at will call. Box Office hours: Tuesday-Saturday noon-5:00 PM